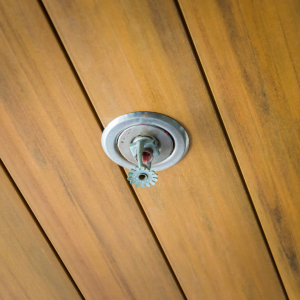 Taking care of your fire sprinkler system helps to ensure that you sprinkler will perform as designed when an emergency occurs. One way to take care of your sprinkler systems is to have them inspected and tested to identify any deficiencies so that they can be repaired in time for action. NFPA 25 mandates an internal inspection of your fire sprinkler pipes every 5 years.
Why is an internal inspection of sprinkler pipes necessary?
5-Year internal inspections of fire sprinklers are performed to ensure that there are no blockages in your pipes. Obstructions in pipes can arise surprisingly quickly. Some common obstructions of pipes include rust, microbiologically influenced corrosion, slime, and other foreign materials such as rocks. If obstructions are found, steps will be taken to remove the obstruction to prevent failures.
What happens during a 5-Year inspection?
The requirements for 5-Year internal sprinkler inspections are defined in NFPA 25. Some of the tasks performed during these inspections include:
Gauge inspection
Standpipe flow test
Standpipe hydrostatic test
Check valve inspection
Internal inspection of piping
There are three levels of internal inspections for sprinkler piping.
Internal pipe inspection – During this inspection, the flushing connection is opened at one of the main ends and the sprinkler tower is removed from one end of a branch line to check for the presence of foreign organic or inorganic material.
Internal pipe examination for "at-risk" systems – In certain situations, this type of internal inspection is performed. This inspection requires internal pipe examinations at 4 points in the sprinkler system:

System Valve
Riser
Cross Main
Branch Line

Obstruction Investigation – if there is sufficient foreign material discovered during the internal pipe inspection, a more comprehensive obstruction investigation is performed.
If obstructions are found during the inspection, a complete flushing program must be conducted to remove the foreign material.
Beach Lake Sprinkler Performs 5-Year Fire Sprinkler Inspections
Do you need a 5-year inspection for your fire sprinkler system? Beach Lake Sprinkler performs inspections and testing of fire sprinkler systems in Pennsylvania and Florida. We conduct inspections in accordance with NFPA and AHJ requirements. Our team of experienced technicians provides 5-year internal fire sprinkler inspections to identify obstructions in your sprinkler system and help prevent system failure. If you are interested in scheduling an inspection, contact us today!