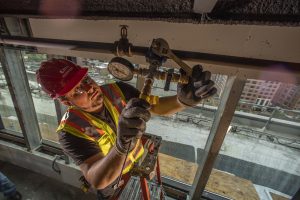 In order for your fire sprinkler system to be effective during a fire, it must be properly inspected and tested. Inspections of fire sprinkler systems are not only required by law, but they can also help to extend the lifespan of your equipment and potentially save you money on insurance premiums.
NFPA 25, the Standard for the Inspection, Testing, and Maintenance of Water-Based Fire Protection Systems, requires that fire sprinkler systems be inspected weekly, monthly, quarterly, annually, and every 5 years.
What Happens During an Annual Fire Sprinkler Inspection?
An annual fire sprinkler inspection is a comprehensive check of all the elements of your fire sprinkler system. During an annual inspection, a fire protection professional will visually inspect your system to help ensure that all the parts are in working order. Annual inspections include:
Inspect valves to make sure that they are in good condition, easily accessible, properly labeled, in correct position, not leaking, and are sealed, locked, and supervised correctly.
Check that wet and dry gauges are in good condition and that normal water pressure supply is properly maintained.
Waterflow and supervisory alarm devices are inspected to ensure there is no physical damage and that waterflow alarm is functioning properly.
Check that hydraulic nameplate is attached and visible.
Ensure that fire department connections are visible and have no damage. Check that valves are not leaking or broken.
Pressure reducing and relief valves should be inspected to make sure there are no leaks, they are in good condition, in an open position, and downstream pressure is maintained in accordance with design.
All sprinkler heads should be inspected along with pipes and fittings on the first floor.
Check that there are spare sprinkler heads onsite along with the tools to replace them.
If applicable, inspect the interior of dry pipe valves when resetting them.
Test the main drain waterflow and check for changes in the water supply piping condition.
Check that all information signs are present and visible.
Inspections of hanger, braces and supports.
Documentation of Inspections
The fire protection company that is performing the inspections of your fire sprinkler system should complete documentation proving that the inspection was completed in accordance with NFPA standards and local codes. This documentation is important for you and the fire protection company to have on file in case a Fire Marshal wants to check that your inspections are being performed in accordance with regulations.
Beach Lake Sprinkler Provides Inspections
At Beach Lake Sprinkler we offer fire sprinkler inspections to keep your systems in good working order and to expand the lifespan of your equipment. We perform inspections in accordance with NFPA 25. With offices in Honesdale, PA and Brooksville, FL, we serve customers in central and northern Florida as well as northern Pennsylvania and southern New York. Contact us today to schedule a fire sprinkler inspection!