Data centers play a critical role in the operation of many businesses. For many companies, data centers are necessary for operations to continue, so downtime is not an option. It is extremely important for data centers to have proper fire protection that quickly detects a fire and suppresses it before it can cause damage.
Types of Fire Suppression & Detection for Data Centers
A data center needs two forms of fire protection: a suppression system and a detection system. The detection system identifies a fire or incipient fire condition, alerts building occupants to evacuate and then signals the fire suppression system to activate. The fire suppression system works to extinguish the fire before it can spread and cause damage to sensitive equipment.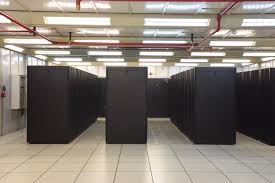 Fire Suppression Systems
Some common fire suppression systems that are used to protect data centers include:
Clean Agent System – a clean agent system uses a gaseous agent to suppress a fire. Clean agents do not cause damage to data center equipment, leave behind no reside and minimizes downtime. Common clean agents used in data centers are Novec 1230 and FM 200.
Water Mist System – water mist systems use very fine water droplets to extinguish a fire without damage sensitive equipment. They are used as an alternative to fire sprinkler systems which cause water damage to equipment.
Fire Detection Systems
Fire detection systems in data centers need to be able to detect a fire in its earliest stages and be able to determine the difference between a gas leak and smoke from a fire. A common choice for fire detection in a data center is an air sampling detection system due to the fact that it can detect a fire early on.
Inspections & Testing for Fire Protection Systems
Fire protection systems in a data center need to be inspected and tested to ensure they will work properly if a fire occurs. Not having your systems inspected could lead to devastating consequences for a data center. Work with a fire protection contractor to have your systems serviced in accordance with NFPA standards and local regulations.
Beach Lake Sprinkler Provides Protection for Data Centers
At Beach Lake Sprinkler, we design, install and service fire protection systems for data centers. We can install clean agent suppression systems as well as fire detection to make sure your data centers is fully protected. Our team of technicians can provide regular inspections and testing to make sure your system is operating as it should. With locations in Pennsylvania and Florida, we can provide fire protection for your data center on the east coast. Contact us today to learn more!