25 Years of Experience Serving Commercial & Residential Facilities
Beach Lake Sprinkler is headquartered in Honesdale, PA, near Scranton and Beach Lake. Our Honesdale office serves Northern PA and Southern NY. We perform work in Honesdale, Beach Lake, Scranton, Allentown, and Wilkes-Barre, PA as well as the surrounding areas.  Our team can work with both commercial and residential facilities.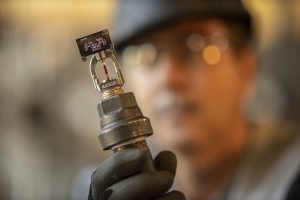 Fire Protection Systems
At Beach Lake Sprinkler, our team can design and install a variety of fire protection systems including:
Fire sprinkler systems
FM-200 suppression systems
Foam Fire Suppression
Deluge Fire Sprinklers
ESFR
Quell Systems
Novec 1230
Inergen
Whether your fire protection needs are large or small, simple, or complex, the Beach Lake Sprinkler team has the skills and experience needed to get the job done.
Inspections & Emergency Service
The technicians at our Honesdale, PA location are certified and trained to provide fire protection inspections. We conduct thorough inspections of your fire protection systems to give you peace of mind that your building is protected and code compliant. Without regular inspections, your systems could fail you.
The Beach Lake Sprinkler team provides 24-hour emergency service for customers in our service area. If something goes wrong with your fire protection systems, give our Honesdale office a call at 570-729-7713 and we will send a technician to your location as quickly as possible.
Contact our Honesdale, PA Office
If you are in need of fire protection service in Northern Pennsylvania or Southern NY, contact us today.
The address of our Honesdale location is:
158 Rosencranse Road
Honesdale, PA 18405