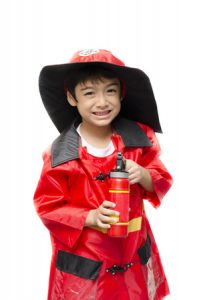 With more than 360,000 home fires taking place across the United States each year, teaching your children about fire safety is of the utmost important. But how should you approach the subject with your little ones? We at Beach Lake Sprinkler recommend taking a positive approach. Yes, your fire safety talk should be a serious one, but you also want to make sure that your children feel confident and unafraid while they are learning what to do in case of a fire-related emergency in the home.
Start with the Basics
While we are sure you have told your children not to play with the knobs on the stove or the matches kept in the cupboard, continue to refresh their memories when you can. Have a conversation with your children about why it isn't safe for them to play with fire, and be sure to keep matches, lighters and other fire-related objects well out of reach. Kids are curious by nature, and you will feel much better knowing that these potentially dangerous items are well out of their reach.
Practice Your Plan
Does your family have a plan in place should a fire start in your home? If not, now is the perfect time to create one. Teach your children how to react to the sound of your fire alarm, walking through each room in your house to find at least two exits.
Spend some time rehearsing your fire escape plan, making it a fun, family-oriented activity that helps your children to feel confident in the skills they have learned. Remember to discuss and decide upon an outdoor meeting place, repeating how important it is never to go back inside of a burning building.
SafeKids.org and FireSafeKids.org are two great resources for fire safety tips and resources for children.
For families looking to further reduce the risk of injury as well as damage to their home in the case of a fire, a fire sprinkler system is a great way to do so. And with the beginning of a new school year just a few weeks away, administrators putting a focus on fire safety may want to have the performance of their school's sprinkler system checked.
Servicing the Northern PA and Southern FL areas, Beach Lake Sprinkler offers installation and maintenance services for all your fire safety needs. To learn more and to request a quote, visit us online or call us at 570-729-7713.