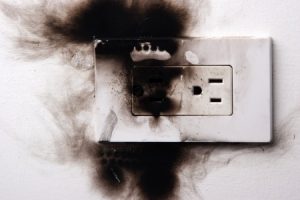 According to Electrical Safety Foundation International, there are about 51,000 home electrical fires each year – resulting in more than 500 deaths and 1,400 injuries. Most commonly caused by the problems highlighted below, these fires can typically be avoided through simple safety measures.
Outdated Appliances
The majority of electrical fires can be attributed to outdated or overused appliances. Why? The oldest of appliances used do not reach modern safety standards, and items that have seen a lot of use are more likely to have frayed electrical cords and faulty switches.
To help prevent electrical fires caused by appliances, check yours frequently to ensure that cords, switches and plugs are all in proper working order. If there is something wrong with any of their features, do not attempt to fix them on your own. Instead, purchase a new cord or appliance, being sure to choose one made of high quality material.
Surge protectors can also be purchased to protect major appliances in case of a power outage or electrical storm.
Light Fixtures
Another frequent mistake made by homeowners is plugging light bulbs into fixtures and lamps that cannot handle the specified wattage. The potential spark produced can quickly cause an electrical fire, which is why it is so important to check your lamps to see what size bulb should be used. You can use lower wattage bulbs than recommended, but never higher.
Especially for families with children, it is also important to discuss keeping cloth and paper products away from lambs and light fixtures. When accidentally tossed over a light, these items can ignite.
Overloaded Extension Cords
Overloaded extension cords are especially common in older homes, as they typically have fewer electrical outlets per room. Remember that major appliances should be plugged directly into outlets – never run through extension cords – and that you should steer away from plugging more than one item into an extension cord.
We recommend avoiding the use of extension cords altogether when possible, and unplugging items from extension cords when they are not in use.
Even if you follow every safety precaution, it is still possible for an electrical fire to occur, which is why it is so important to equip your home or business with a sprinkler system. For more information about the fire protection systems available and the maintenance they require, please contact Beach Lake Sprinkler at 570-729-7713. With locations in Honesdale, Pennsylvania and Brooksville, Florida, we proudly service individuals from New York and New Jersey, all the way down to Florida.
Source: http://www.firerescue1.com/fire-products/fire-safety-for-children/articles/1206100-5-common-causes-of-electrical-fires/